If you are looking for a free Grammarly premium cookie or account on the internet, you have reached the right place. In this article, I will share a free Grammarly premium for all the guys who are into writing.
As you know, Grammarly is a helpful tool for anyone who wants to write error-free content or articles of excellent quality. Grammarly Premium Account is the ultimate tool for students, and it helps students make good-quality notes by checking grammatical errors.
You can even make unique notes from Grammarly using the plagiarism checker, which helps you make your records unique. The plagiarism checker algorithm in Grammarly checks the similarity of your writing with others on the internet.
Where can you find the best simple steps to uninstall? You've come to the right place. Here, you will get your answer. Our previous article covered How to Uninstall Grammarly and free Chegg accounts. Take a look if you're interested.
What is the Grammarly Free Premium Cookie?
Grammarly's free premium is an online tool with useful features for students and content-writing professionals. You can make notes with unique qualities if you write your notes in Grammarly.
Grammarly Premium Free has so many cool features, including the grammar checker, sentence checker, plagiarism checker, etc., making Grammarly very special for all users.
You will be asked for specific details about the writing error, such as whether the note is a partial copy of another note by another author or a grammatical mistake made by the human hand.
How To Get Grammarly Premium For Free In [datetoday]?
You can get Grammarly Premium for free, which will work with full features. I will tell you how you can get a free Grammarly premium account. Well, there are some best working methods for a Grammarly Free Premium Cookie. 
The best method to get access to Grammarly Premium free is the Grammarly premium cookie, which will give you access to Grammarly Premium without using any login credentials. Grab a premium Grammarly cookie provided in the article and use it.
RECOMMENDED FOR YOU
Netflix Cookies Hourly Updated [100% Working]
Hulu Cookies Hourly Updated [100% Working]
How to Uninstall Grammarly (Step-by-Step Guide)
Alternatively, you can make free trial accounts on Grammarly to get premium features. But as you can see, the trial account has some limitations.
You need to create new accounts whenever the trial period ends and repeat the process of creating accounts and getting the free trials, which is quite dull.
Best Grammarly Features Described
Now, I hope you guys are familiar with Grammarly, and I assume you want to know more about Grammarly. I am here to describe the features that make Grammarly a cool and insanely awesome tool for everyone.
Grammarly Spelling Checker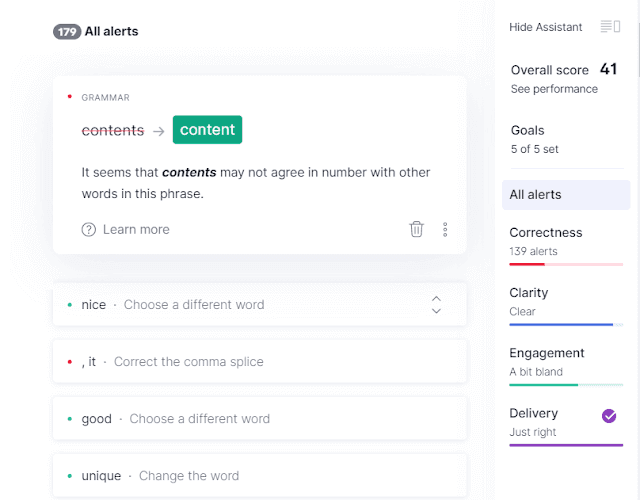 This is yet the best cool feature of Grammarly. The spelling checker of Grammarly checks any grammar errors in a note. As Grammarly has multiple languages support, you can correct your spelling mistakes in the notes.
Grammarly Tone Checker
Grammarly checks the tone of your writing in your notes and analyses them to make them suitable and sensible by making changes in the sentences and word placements. 
The tone detector of Grammarly even suggests if any changes need to be made in the placement of the words. This feature makes Grammarly the best proofreading tool for writers.
Grammarly Grammar Checker
Grammarly checks and makes a complete analysis of your notes and whether any grammar mistake exists. By using this tool, you can make your notes accurate and improve the correctness of your notes.
It also gives you a word choice to replace in some cases to make the sentence structure more accurate. This advanced grammar checker makes Grammarly the best tool in the market.
Grammarly Plagiarism Checker
The plagiarism checker algorithm of Grammarly checks your notes and compares them to all the other available notes on the internet. This tool helps users to make unique notes, and the best accurate word placement helps to make the note beautiful.
This also helps to make anyone a great writer and helps improve the writing style. Now you don't have to worry about your notes being similar to anyone else's.
Grammarly free vs. premium | comparison overview
Now let's check some Grammarly-free vs. premium comparisons quickly. A lot of features are available only in premium, and some others are available for free and in premium.
The Grammarly premium feature includes the following:
Plagiarism checker that checks across billions of web pages.
Vocabulary enhancement suggestions
Readability
Genre-specific writing style checker
The free Grammarly features include the following:
Grammar and spelling checks
Check notes across the web.
Access to your text editor on grammarly.com
Check the explanation of grammar rules.
Check the definition and synonyms with a double click.
Add new words to your dictionary.
These features work with the Grammarly free and the premium versions. Some are premium quality features that are only available with the premium version. Overall, Grammarly is one of the best tools for students.
Grammarly Web For PC Users
The Grammarly web interface is designed to help users make quality notes using the grammar checker and word placement analyzer. You can make your note error-free and unique with the help of Grammarly plagiarism-checking tools.
Grammarly helps you improve your writing style and understand proper grammar and word placement. Now, anyone can become a great writer by using Grammarly.
Grammarly Browser Extension
You can use the Grammarly browser extension to enhance your writing style and improve the correctness of your writing.
The Grammarly extension is free to use in any Chrome or Firefox browser.
Your Firefox browser is from the Mozilla extensions store. The following link can be used to find the right extension if you cannot find it.
You can find the Grammarly extension in the Chrome web store using a chrome browser.
The link is given above if you cannot find the right tool. Go to the link to download the Grammarly Chrome extension.
Grammarly Cookies [datetoday]
Here are the ultimate boxes of Grammarly cookies. I have shared three working premium Grammarly account cookies that are updated hourly. Enjoy
Grammarly Cookies #1
| | |
| --- | --- |
| ACCOUNT TYPE | Premium |
| Validity | December 30, 2023 |
| STATUS | 100% Working |
| LAST UPDATE | [datetoday] |
Grammarly Cookies #2
| | |
| --- | --- |
| ACCOUNT TYPE | Premium |
| Validity | April 25, 2023 |
| STATUS | 100% Working |
| LAST UPDATE | [datetoday] |
Grammarly Cookies #3
| | |
| --- | --- |
| ACCOUNT TYPE | Premium |
| Validity | March 25, 2023 |
| STATUS | 100% Working |
| LAST UPDATE | [datetoday] |
Follow me to learn how to use the cookie for Grammarly premium free access using your PC
Another way to access Grammarly Premium is to grab a premium free account, which I have shared in this article. Go to the list and try the Grammarly premium accounts given here.
Grab a cookie from this article and open your favorite browser (here, I'm using Chrome to perform the task).
Now go to the Chrome web store and download an extension called "Edit this cookie." If you can't find the extension, you can use the below link to download and install it.
After installation, the extension icon appears in the upper right corner of the Chrome browser.
Go to the Grammarly home page and click the "EditThisCookie" icon to open the cookie manager.
You can see the cookie manager open. Now put the cookie you grabbed from this article, paste it in the field name as "Value," and click on "Submit Cookie Changes."
Now reload the tab where you have kept your Grammarly open. Now you can see you have logged into a premium Grammarly account. Enjoy your Grammarly premium now.
Alternatively, you can get a Grammarly premium free trial for yourself. Follow me here in this paragraph to know more about it.
Follow me for signing up for a Grammarly free premium trial; instructions are in the below steps.
Go to the Grammarly website homepage.
Find the signup button on the homepage of the Grammarly website and click on it.
On the next page, you can see a form for signing up. You need to fill up the way using all.
Your valid details
Enter your working email address in the field of an email.
Choose a strong password according to the site and see what it recommends.
Retype your password in the text field if the site asks you to re-enter your password.
After entering your email and password, put your full name in the text field.
After filling in all the details, click on the submit button. You can see that the next page will show you membership plans and pricing.
Click on the Get Grammarly Trials option. It will open another page.
On the next page, enter your credit card details and security pin. Then, validate your payment details. Now, you can try Grammarly Premium for free with the Grammarly trial.
Done; now you have a trial of Grammarly Premium with all the premium features unlocked. Alternatively, you can grab a Grammarly premium account for free from my site. I have shared all the login details for free Grammarly Premium accounts here.
Top Grammarly Premium Free Alternatives In [datetoday]
Reverso
Hemingway
Onlinecorrection.com
1. Reverso
Reverso is a web-based proofreading tool and one of the perfect Grammarly alternatives. You can use it to check your notes' grammar and spelling.
This tool goes viral among users who want free premium features. You can use it for error correction in your notes. Overall, it is a beneficial web-based application for your note-making task.
You can use it as a Grammarly alternative to make your notes.
2. Hemingway
This tool is perfect for bloggers, as it mainly focuses on increasing your posts' readability. You can directly post your article on your website if it is hosted on WordPress. This is a cool feature.
You can format your prose as you like. Hemingway can handle any style you want in your post. You can use the Hemingway editor offline, too. Hence, no internet connection is required to make your notes post-error-free, and it improves correctness.
3. Onlinecorrection.com
This website is free and the best alternative to Grammarly in the case of human proofreading. Onlinecorrection.com is designed to find spelling, grammar, and stylistic mistakes in your notes. 
You can use it to make your notes or writing error-free and improve your writing style. You can use the site for free and take notes, as it has no user usage limit.
So, this tool is perfect for writers who want a free tool for working on huge loads.
FAQ On Grammarly Free Premium Cookie
Can I get a Grammarly premium for free?
Yes, you can get Grammarly Premium for free from our site.
Is there a free alternative to Grammarly available?
There are plenty of free Grammarly alternatives available. Eventually, you can check out the list of Grammarly alternatives from the list I have put in this article.
How can I get a free Grammarly premium account?
You can get free Grammarly premium accounts from our site; visit the article link to get your free premium account.
How Do You Get Grammarly Premium For Free Using Cookies?
Copy the Grammarly cookies and paste them into the Chrome extension to make it work. That's all it takes to make it work. Or you can follow the steps carefully to use the premium services.
Final words from the Admin
Grammarly is the best writing assistant, with a huge user base worldwide. In this article, I have provided some free Grammarly premium cookies you can grab and use.
Grab your free Grammarly premium account from this article. If you cannot log into Grammarly Premium using the account details from the article, please let me know using the comment box. I will instantly update them.
Feel free to suggest anything regarding this article. If you face any issues, ping me, and I will help you as soon as possible. Thank you so much for visiting this link.
I have created a Telegram channel to update free Premium accounts daily with emails and passwords. We have a telegram channel you can join if you want to join our group. You will be able to get accounts for free, and you can also request any other premium accounts you'd like.