Airtel launched Airtel Broadband and Smartbytes services in India, and it helps Airtel postpaid users to Recharge their data pack. You may be called a Data pack or an "INTERNET PACK."
If you are an Airtel broadband user, then Airtel smartbytes is for you. Using smartbytes services, you don't have to worry about the run out of HIGH-SPEED data.
Airtel launched the smartbyte services in around 2011, and it was the best service from Bharti Airtel India. This is an online service for airtel broadband subscribers, and it allows users to recharge data when they are zero data balance in their account.
Editors' Recommendations:
This article will give you all the details about "What is smartbytes" and "Airtel Internet Data Usage Checker." I will also tell you the necessary information you should know to avoid loss. Let's start.
What is Smartbytes?
You can compare it to a Jio data booster. Airtel Smartbytes knows how much data has been left in your account. It also helps you set up daily data limits and shows notifications on data usage.
let's check out these two sections below:
1. Smartbytes for Mobile
Smartbytes for Mobile: First, you have to download the app name "MY AIRTEL APP," you can get it through the google play store. After doing that, open it and log in to your account. If you already have an account, then log in. If not, then register with your valid details.
After login into your airtel app, you will see many offers and your account information; you can see all information associated with Airtel in a single place.
With the help of the "MY AIRTEL APP," you can do many things like recharge your mobile number, DTH Connection recharge, Sim Replacement, etc. This portal is for both customers Airtel Postpaid and Prepaid customers.
2. Smartbytes for Airtel Broadband:
Similarly, Airtel Smartbytes can track Airtel Broadband usage; here, you can recharge and change the broadband plan from their broadband section.
This section allows you to check how much data you used and left in your account and your expiry date. This section only allows Airtel Broadband users.
Airtel smart bytes | The Incredible Service At a Glance
Are you running out of data? Don't worry; Airtel has presented something extraordinary for you. The Airtel Smartbytes is the new exciting catch for all the airtel customers who are proud to be with the Airtel family.
Airtel has introduced smart bytes, an add-on package for those needing more data to feed their hungry minds and watch and explore the web.
It is yet the best top-up service from airtel that lets you catch the online action! Now you can watch the seamless performance from airtel internet with the smartbytes service.
Airtel Smartbytes | How to Check Airtel Broadband Internet Data Usage
Airtel is one of the most critical companies in the broadband business in India. It has landline services like BSNL and DSL broadband companies that provide data at a very low cost but with limited data usage.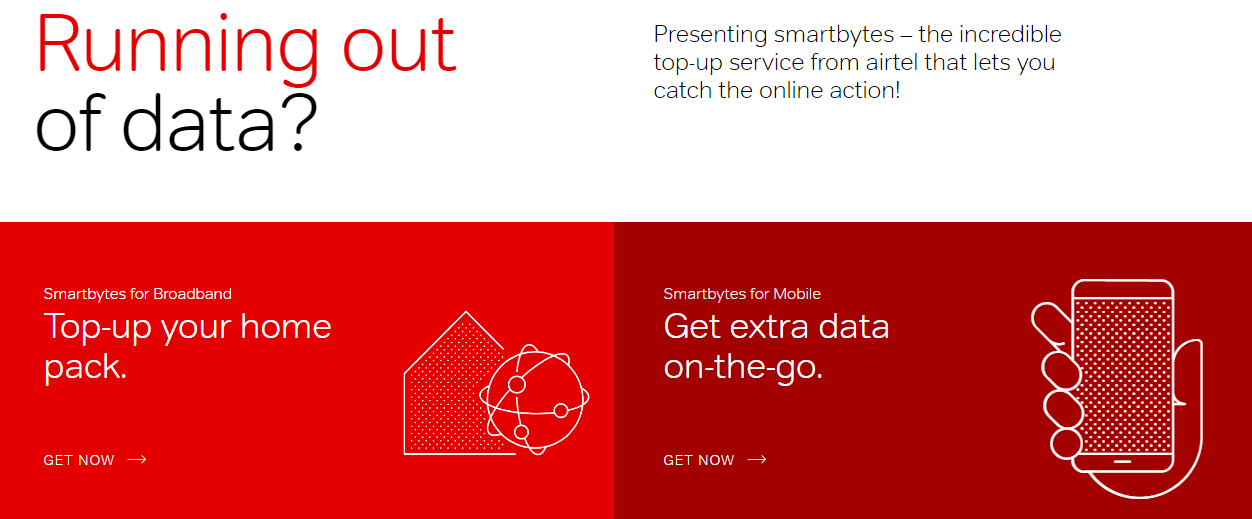 Using those plans, you don't have sufficient data to explore more; this is only for small uses like checking email, etc.; when you run your data, you can't access the internet in some data plans you choose.
After using your data, you may pay more for your extra data. That's why you should know how much data you have used or left in your account.
You should take a broadband speed test to understand how efficiently your Airtel smart bytes internet is working. Here is an excellent site to check all the details about your internet connection, such as your ping, uploading speed and downloading speed, etc.
Airtel Smartbytes Plans | Additional Data Usage Packs
Airtel Smartbytes Plans: You can find affordable top-up choices. This will help customers to include more data and monitor their budgets freely.
| | |
| --- | --- |
| 1GB for INR 99 | 10GB for INR 499 |
| 2GB for INR 159 | 20GB for INR 799 |
| 5GB for INR 299 | 50GB for INR 1499 |
The above top-up is cheap if you aren't on a tight budget. These will allow you to enjoy the same high-speed internet as you before.
As you can see, there are two methods to see your details on your Airtel Smartbytes account.
The first is to visit the official site, and the second via the Smartbytes mobile app.
I think you will go through the mobile app because it is easy and you can do it conveniently.
How to check data usage with Airtel Smartbytes?
Checking the used data is very easy. Once you have a valid connection (Internet), visit the link below:
LINK: Airtel Smartbytes
As we know, we need a browser to visit our Airtel broadband connection with a compatible browser, and then you can view the data consumption when you visit the setting menu. You can also observe your DSL amount on the webpage.
How To Top Up Data Using Smartbytes Airtel?
By using smartbytes service here, you can buy additional data (high-speed data) while your monthly billing ends. This process is done immediately when you log in to the smartbytes page on the internet.
Choosing a plan is very simple; you need to open the webpage (Smartbytes page) and click on the upgrade column. After doing that, you must select a plan ready to go.

All your bill billed by the end of the billing cycle. That's it, and you don't need anything to access your additional high-speed data; you can get it in a few clicks.
If you observe that your net connection is slow, you have to restart the modem and connect it again, and "BOOM," you are getting high-speed data.
Here you can also see your additional data (extra purchased data) has been added to your account.
Editors' Recommendations: Airtel USSD Codes – Complete List to Check Balance, Plan, and more
How Can You Save Data On Airtel Limited Connections?
If you are an Airtel Broadband user, as we know, Airtel provides a limited data plan; at the limited data, we can't update our pc software like Antivirus, the software we use, and the last windows update.
For the limited, we can't update it anymore, and it consumes more data. What we can do we can save data by configuring our pc applications. In simple words, turn off the automatic updates.
If you want to update any software, download the monthly upgrade packages, and install them manually in the last week of the month. We know Microsoft release their offline updates for pc, so download it and update it manually.
Many browsers have an extension name, "data saving browser extensions," which will help you to save your data. Below is the list you can check.
Extensions to Save Data:
Some web browser has inbuilt data-saving mode:
Above are the Extensions and Some web browsers that help you save data.
Airtel announced an advanced plan that helps you to create your postpaid program based on what you need, and this plan is called "MY PLAN."
Airtel made everything easy for their prepaid and postpaid subscribers. Now they know what data consumption and speed they are getting.
If you are going to test your net speed, you can visit the below link and start. Here you will get your current internet speed and uploading to.
With the information you receive for your month, you also get the opportunity to receive unlimited free calls with messages.
You will also get unlimited 4G data at night so that you can download some media too. As you can see above, they will disclose the information you left, the data you used, and the number of days left in the current bill cycle.
If you are working with data, see the above selection and include the data package per your requirement. Claiming free 30GB advice is a three-step route to action.
More Points On Airtel Smartbytes
Smartbytes is one of Airtel's best services that aim to deliver a quality consumer experience within its network.
There is still a lot to improve and work on, but with enough support and user support, Airtel will gradually get the right mix for everyone.
Have you been a long-time airtel user? How does Airtel Smartbytes help with your web needs? If you can suggest some improvements, then what will happen?
Tell us your thoughts and opinions in the comments department, and we will remove the words to help everyone.
FAQ On Airtel Smartbytes
What is smartbyte in Airtel?
Smartbytes is introduced by airtel for their customers, a data pack for airtel broadband customers with a defined high-speed data transfer limit.
How can I buy Airtel smartbytes?
You can go to the official site to buy your smartbytes.
How do I check my airtel smartbytes usage in 2023?
You can monitor your smartbytes usage using the airtel thanks app from your phone.
Conclusion
Airtel smartbytes is a fantastic gift for all proud airtel customers. Sometimes we go deep into the web to dig out something from our interest. Sometimes, many of us run out of data during that process.
Airtel doesn't want you to go out of data when you are passionate about exploring your interest. So, the smartbytes service is introduced for users who always need more data.
You guys won't be disappointed if your data ends up; you have smart bytes to add to your data balance.
In this article, I have put on my best research for you so that I can give my best about Airtel smartbytes and present it to you guys.
I hope all of you will like the article. If anyone faces any issues, please ping me using the comment box. I will revert you with a solution as soon as possible.
Now you can get your answer Airtel Smartbytes and How to Check Airtel Broadband Internet Data Usage. If you still have any doubts, comment below, and I will try to solve them.